Visit and like our 'Passage" facebook page to add comments about any of our current 'reads', or to post comments as you read the One Year Bible with us!  https://www.facebook.com/CCCVPassageBookClub
For more information about "Passage" A Book Club for Women,  contact the Charis Women's Ministry office at 909-464-8225 x273, or the Chapel Store at 909-464-1228.  You may also email us at charis@calvaryccv.org.
_________________________________________________________________________________________________________
"Passage" Meeting Calendar 
Friday, April 24th at 10:00am in the Chapel Store
_________________________________________________________________________________________________________
"Passage" April Book:  Miracle at the Higher Grounds Café by Max Lucado – On Sale in the Chapel Store for $12.20
What if you could ask God anything? What would you ask? And how would He answer?
Chelsea Chambers is on her own. After a public split from her NFL superstar husband, Chelsea takes a bold step out of the limelight and behind the counter of the Higher Grounds Café, an old-fashioned coffee shop in dire need of reinvention. But when her courage, expert planning, and out-of-this-world cupcakes fail to pay the bills, this newly single mom finds herself desperate for help. Better yet, a miracle.
Then a curious stranger lands at Chelsea's door, and with him, an even curiouser string of events. Soon, customers are flocking to the Higher Grounds Café, and not just for the cupcakes and cappuccino. They've come for the internet connection to the divine. Now the café has become the go-to place for people in search of answers to life's biggest questions.
When a catastrophe strikes and her ex comes calling, Chelsea begins to wonder if the whole universe is conspiring against her quest to make it on her own. After a shocking discovery opens her eyes to the unseen world around her, Chelsea finds the courage to ask, and heaven answers in a most unexpected way.
_________________________________________________________________________________________________________
Past "Passage" Books of the Month
Storm by Jim Cymbala
Jim Cymbala tells of riding out a super storm in his 26th floor apartment in Brooklyn. "That night I saw something I'd never seen before–Lower Manhattan disappeared into the night. The lights that always glowed from the Financial District were gone! The power that physically and metaphorically lit the world had been cut off at the source…It struck me that this could be the perfect metaphor for what is happening to the church in America today."
Storm is a book that will both disturb and enlighten you. It will help you to recognize what is happening and why. Most of all, it will sound a clarion call to all who believe, reminding us that no matter how fierce the storm, God isn't asking us to take shelter under a table while the light and power go out of his church. No, God has given us the gospel of Christ and the Holy Spirit's resources so that we can bring his light to the world. We are called to join Jesus, the one who calmed the winds and invited Peter to walk with him on the water, to let his light shine strong in the blackest night.
________________________________________________________________
 Keepers of the Covenant by Lynn Austin
Keepers of the Covenant In Their Darkest Hour, Where Would Hope Be Found? In one life-changing moment, the lives of the exiles in Babylon are thrown into despair when a decree from the king's palace calls for the annihilation of every Jewish man, woman, and child throughout the empire in less than one year. Ezra, a quiet but brilliant scholar, soon finds himself called upon to become the leader of his people. Forced to rally an army when all his training has been in the Torah, he struggles to bring hope in a time of utter despair, when dreams of the future–of family and love–seem impossible. In Keepers of the Covenant, acclaimed novelist Lynn Austin, weaves together the struggles and stories of both Jews and Gentiles, creating a tapestry of faith and doubt, love and loss. Here, the Old Testament comes to life, demonstrating the everlasting hope displayed in God's unwavering love for His people.
 _______________________________________________________________
50 Women Every Christian Should Know by Michelle DeRusha
The inspiring stories of the women who helped to shape our faith

Throughout history, countless women have boldly stepped out in faith and courage, leaving their indelible mark on those around them and on the kingdom of God. In lively prose Michelle DeRusha tells their stories, bringing into focus fifty incredible heroines of the faith. From Catherine of Siena, Teresa of Ávila, and Anne Hutchinson to Susanna Wesley, Harriet Tubman, and Corrie ten Boom, these admirable women live again under DeRusha's expert pen. These engaging narratives are a potent reminder to us that we are not alone, the battles we face today are not new, and God is always with us in the midst of the struggle.
"This book is rich in inspiration and information. Reading it opened my eyes, broadened my vision, and challenged my faith. I highly recommend it to both men and women!"–Warren W. Wiersbe, author and former pastor of the Moody Church, Chicago
"Fifty women who teach us that famous isn't about how many people know your name and that brave often looks like pressing on even when you're afraid. My daughter and I are both indebted to Michelle for introducing us to many women we'd never met before and are sure never to forget."–Lisa-Jo Baker, community manager for (in)courage and author ofSurprised by Motherhood
"In the face of some of the same questions, temptations, and doubts we encounter today, these women were pioneers. Their stories give the church of today–men and women alike–a courageous and brave example of living faith and of living out faith, the evidence of things unseen."–Deidra Riggs, managing editor of The High Calling and founder ofJumping Tandem
"In this thoroughly researched and well-written work, Michelle DeRusha invites us into the lives of fifty women whose stories are our stories. This book inspired me, challenged me, and made me feel so proud to be a woman who belongs to Jesus."–Jennifer Dukes Lee, author of Love Idol
Michelle DeRusha writes a monthly column on religion and spirituality for the Lincoln Journal Star and is a regular contributor to The High Calling and other online journals. She also writes about faith in the everyday on her blog at www.michellederusha.com. She lives with her husband and their two boys in Nebraska.
_________________________________________________________________________________________________________________________
Persecuted by Robin Parrish
I will not be silent.
A storm is coming. The most popular evangelist of his day, John Luther, simply wants to share the Gospel and enjoy a quiet life with his family. He never asked to be at the center of a political controversy, but an ill wind has been blowing through the halls of Congress, and supporters of a new religious-equality bill see Luther's endorsement as critical. But when Luther refuses to lend his support, he unknowingly sets in motion an explosive plan bent on destroying his reputation and undermining everything for which he stands. His once-normal life is turned upside down as he becomes a fugitive left with only one dangerous option–putting everything he holds most dear at risk while he fights to expose the truth. It is a mission that brings him face-to-face with the coming storm of persecution that could threaten the very fabric of our nation's freedoms. Bethany House Publishers presents Robin Parrish's official novelization of the Daniel Lusko film,
Persecuted
. Available in cloth hardback, trade paperback, and ebook formats.
________________________________________________________________________________________________________
Bridge to Haven by Francine Rivers
To those who matter in 1950s Hollywood, Lena Scott is the hottest rising star to hit the silver screen since Marilyn Monroe. Few know her real name is Abra. Even fewer know the price she's paid to finally feel like she's somebody. To Pastor Ezekiel Freeman, Abra will always be the little girl who stole his heart the night he found her, a wailing newborn abandoned under a bridge on the outskirts of Haven, a sleepy little town in Northern California. Zeke and his son, Joshua—Abra's closest friend—watch her grow into an exotic beauty. But Zeke knows the circumstances surrounding her birth etched scars deep in her heart, scars that leave her vulnerable to a fast-talking bad boy who proclaims his love and lures her to Tinseltown. Hollywood feels like a million miles from Haven, and naive Abra quickly learns what's expected of an ambitious girl with stars in her eyes. But fame comes at a devastating price. She has burned every bridge to get exactly what she thought she wanted. Now, all she wants is a way back home.
______________________________________________________________________________________________
Who Made God?  and Answers to Over 100 Other Tough Questions of Faith by Ravi Zacharias and Norman Geisler

______________________________________________________________
As I See It by Cathe Laurie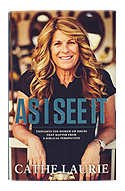 As I See It is a collection of bite-size thoughts, anecdotes, and illustrations, each of which points to a biblical truth or characteristic of our Savior. Cathe Laurie shares pearls of poignant insight from her experiences as a Christian, a mother, and wife to Pastor Greg Laurie.
Through a woman's eyes…Truth is truth, and the precepts of the Bible apply equally to all of God s children, young and old, male and female. But it is really no great secret that men and women see things differently. Call it a different slant, a different emphasis, or a different point of view. Through the years of her teaching ministry to women, Cathe Laurie has brought a distinctly feminine perspective to the eternal insights of God's Word. In the pages of this book, Cathe shows how Scripture speaks to all the basic issues of life: love, faith, trials, joy, pain, relationships, time, attitudes, speech, marriage, priorities, and hope beyond the grave.
 _______________________________________________________________
Return to Me by Lynn  Austin
Bestselling Author Lynn Austin Launches New Biblical Saga
After years of watching his children and grandchildren wander from their faith, Iddo's prayers are answered: King Cyrus is allowing God's chosen people to return to Jerusalem. Jubilant, he joyfully prepares for their departure, only to learn that his family, grown comfortable in the pagan culture of Babylon, wants to remain. Zechariah, Iddo's oldest grandson, feels torn between his grandfather's ancient beliefs and the comfort and success his father enjoys in Babylon. But he soon begins to hear the voice of God, encouraging him to return to the land given to his forefathers. Bringing to life the biblical books of Ezra and Nehemiah, Return to Me tells the compelling story of Iddo and Zechariah, the women who love them, and the faithful followers who struggle to rebuild their lives in obedience to the God who beckons them home.
______________________________________________________________________________________________
Joni & Ken An untold story by Larry Libby
This is the true love story of Joni and her husband of 30 years, Ken Tada. A love story showing what it truly means for a man and a woman to live in love … in sickness and in health.  Even the honeymoon wasn't easy. Did Ken realize what he was getting into when he proposed to Joni, a quadriplegic woman? As their marriage years moved on, Ken became increasingly overwhelmed by the never-ceasing demands of caring for Joni, who begins to experience chronic, extreme, nightmarish pain. Ken sinks into depression, and the couple finds themselves on parallel tracks in life, married and living under the same roof but drifting apart emotionally. But as they fight for their marriage and find their way through the mazes of depression and pain, they wrap their two lives around their rock—Jesus. During Ken's denial of Joni's diagnosis, and Joni's thoughts of how wonderful a quick exit to heaven would be, they experience a personal visitation with the Savior you will never forget. ______________________________________________________________________________________
Accidental Pharisees by Larry Osborne
Following Jesus is not a race to see who can be the most radical, sacrificial, knowledgeable, or burnt out for  Jesus. It's simply doing whatever he calls us to do, whether it's radical and crazy or simple and mundane.
Nobody talks about it much, but our passion for God can have a dark and dangerous side. Bestselling author Larry Osborne shines a light on the six most common dangers of overzealous faith and then shows us how to avoid them.
If you're seeking to follow Jesus with everything you've got, or if you wonder what has happened to the Jesus who offers rest to the weary and an easier yoke to the overloaded, then this book is for you.  You'll find that Jesus' offer still stands.
______________________________________________________________________________________________
All Things New by Lynn Austin
The War is Over. The South Has Lost.  Josephine Weatherly struggles to pick up the pieces of her life when her family returns to their Virginia plantation. But the realities of life after the war cannot be denied: her home and land are but a shell of their previous grandeur, death has claimed her father and brother, and her remaining brother, Daniel, has returned home bitter and broken. Her Life of Privilege, a Long-ago Dream.  Josephine soon realizes that life is now a matter of daily survival and recognizes that Lizzie, as one of the few remaining servants, is the one she must rely on to teach her all she needs to know. Josephine's mother, too, vows to rebuild White Oak…but a bitter hatred fuels her.  Can Hope and Battered Faith in God Survive Amid the Devastation?
In her bestselling tradition, Lynn Austin brings to life the difficult years of Reconstruction by interweaving the stories of three women…daughter, mother, and freed slave in a riveting tale.
_________________________________________________________________________________________________________
Cold-Case Christianity
A homicide dete
ctive investigates the claims of the Gospels. The investigation that turned an angry atheist and skeptic into a committed follower of Christ and advocate for the undeniable reliability of the Gospel. WARNING: Do not start reading this book unless you have time to set aside. You will not be able to put it down.  This is a one-of-a-kind, ground-breaking book that everyone should read.  J. Warner is in a unique position to investigate the claims of Christianity. He is quickly becoming my favorite apologist. Twelve stars out of ten. Don Stewart is host of Pastor's Perspective and author of over seventy books. __________________________________________________________________________________________________
Lincoln's Battle with God
Abraham Lincoln was the most beloved of all U.S. presidents. He freed the slaves, gave the world some of its most beautiful phrases, and redefined the meaning of America. He did all of this with wisdom, compassion, and wit. Yet, throughout his life, Lincoln fought with God. In his early years in Illinois, he rejected even the existence of God and became the village atheist. In time, this changed but still he wrestled with the truth of the Bible, preachers, doctrines, the will of God, the providence of God, and then, finally, God's purposes in the Civil War. Still, on the day he was shot, Lincoln said he longed to go to Jerusalem to walk in the Savior's steps. What had happened? What was the journey that took Abraham Lincoln from outspoken atheist to a man who yearned to walk in the footsteps of Christ? In this thrilling journey through a largely unknown part of American history, New York Times best-selling author Stephen Mansfield tells the richly textured story of Abraham Lincoln's spiritual life and draws from it a meaning sure to inspire Americans today.
___________________________________________________________________________________________________