"Passage" A Book Club for Women
Visit and like our 'Passage" facebook page to add comments about any of our current 'reads', or to post comments as you read the One Year Bible with us!  https://www.facebook.com/CCCVPassageBookClub
For more information about "Passage" A Book Club for Women,  contact the Charis Women's Ministry office at 909-464-8225 x273, or the Chapel Store at 909-464-1228.  You may also email us at charis@calvaryccv.org.
_____________________________________________________________________________________________
"Passage" Meeting Calendar 
May 30th,  10:00am, in the Chapel Store
June 27th, 10:00am, in the Chapel Store
August 22nd, 10:00am, in the Chapel Store
_____________________________________________________________________________________________
"Passage" May Book:  Bridge to Haven by Francine Rivers. On Sale at the Chapel Store (after April 22nd release date) for a discounted $16.99.
BRIDGE TO HAVEN – Coming April 2014!
To those who matter in 1950s Hollywood, Lena Scott is the hottest rising star to hit the silver screen since Marilyn Monroe. Few know her real name is Abra. Even fewer know the price she's paid to finally feel like she's somebody. To Pastor Ezekiel Freeman, Abra will always be the little girl who stole his heart the night he found her, a wailing newborn abandoned under a bridge on the outskirts of Haven, a sleepy little town in Northern California. Zeke and his son, Joshua—Abra's closest friend—watch her grow into an exotic beauty. But Zeke knows the circumstances surrounding her birth etched scars deep in her heart, scars that leave her vulnerable to a fast-talking bad boy who proclaims his love and lures her to Tinseltown. Hollywood feels like a million miles from Haven, and naive Abra quickly learns what's expected of an ambitious girl with stars in her eyes. But fame comes at a devastating price. She has burned every bridge to get exactly what she thought she wanted. Now, all she wants is a way back home.
______________________________________________________________________________________________
"Passage" March Book:   Who Made God?  and Answers to Over 100 Other Tough Questions of Faith by Ravi Zacharias and Norman Geisler – On Sale at the Chapel Store for a discounted $10.49.



In the quest for the truth, you need to know what you believe and why you believe it. Who Made God? offers accessible answers to over 100 commonly asked apologetic questions. Bringing together the best in evangelical apologists, this guide is standard equipment for Christians who want to understand and talk about their faith intelligently. Part one answers tough questions about the Christian faith such as: * Who made God? * How can there be three persons in one God? * What is God's ultimate purpose in allowing evil? * Where did the universe come from? * How long are the days of creation in Genesis? * Did Jesus rise from the dead? * Are the records of Jesus' life reliable? * Does the Bible have errors in it? Part two answers tough questions about other faiths, including Islam, Mormonism, Hinduism, Transcendental Meditation, Yoga, Reincarnation, Buddhism, and Black Islam. Relevant stories, questions for reflection and discussion, and a comprehensive list of suggested resources help you dig deeper so you can be prepared to give careful answers that explain the reasons for your faith.
—————————————————————————————————————————————————————–
"Passage" January Book: As I See It by Cathe Laurie – On Sale at the Chapel Store for a discounted $13.97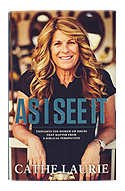 As I See It is a collection of bite-size thoughts, anecdotes, and illustrations, each of which points to a biblical truth or characteristic of our Savior. Cathe Laurie shares pearls of poignant insight from her experiences as a Christian, a mother, and wife to Pastor Greg Laurie.
THROUGH A WOMAN S EYES…… Truth is truth, and the precepts of the Bible apply equally to all of God s children, young and old, male and female. But it s really no great secret that men and women see things differently. Call it a different slant, a different emphasis, or a different point of view. Through the years of her teaching ministry to women, Cathe Laurie has brought a distinctly feminine perspective to the eternal insights of God's Word. In the pages of this book, Cathe shows how Scripture speaks to all the basic issues of life: love, faith, trials, joy, pain, relationships, time, attitudes, speech, marriage, priorities, and hope beyond the grave.
 ________________________________________________________
"Passage" December Book: Return to Me by Lynn  Austin - On Sale at the Chapel Store for a discounted $10.49
 Bestselling Author Lynn Austin Launches New Biblical Saga
After years of watching his children and grandchildren wander from their faith, Iddo's prayers are answered: King Cyrus is allowing God's chosen people to return to Jerusalem. Jubilant, he joyfully prepares for their departure, only to learn that his family, grown comfortable in the pagan culture of Babylon, wants to remain.
Zechariah, Iddo's oldest grandson, feels torn between his grandfather's ancient beliefs and the comfort and success his father enjoys in Babylon. But he soon begins to hear the voice of God, encouraging him to return to the land given to his forefathers.
Bringing to life the biblical books of Ezra and Nehemiah, Return to Me tells the compelling story of Iddo and Zechariah, the women who love them, and the faithful followers who struggle to rebuild their lives in obedience to the God who beckons them home.
______________________________________________________________________________________________
"Passage" October Book: Joni & Ken An untold story by Larry Libby – On Sale at the Chapel Store for a discounted $12.97
This is the true love story of Joni and her husband of 30 years, Ken Tada. A love story showing what it truly means for a man and a woman to live in love … in sickness and in health.  Even the honeymoon wasn't easy. Did Ken realize what he was getting into when he proposed to Joni, a quadriplegic woman? As their marriage years moved on, Ken became increasingly overwhelmed by the never-ceasing demands of caring for Joni, who begins to experience chronic, extreme, nightmarish pain. Ken sinks into depression, and the couple finds themselves on parallel tracks in life, married and living under the same roof but drifting apart emotionally. But as they fight for their marriage and find their way through the mazes of depression and pain, they wrap their two lives around their rock—Jesus. During Ken's denial of Joni's diagnosis, and Joni's thoughts of how wonderful a quick exit to heaven would be, they experience a personal visitation with the savior you will never forget.
______________________________________________________________________________________
"Passage" August Book:  Accidental Pharisees by Larry Osborne – On Sale at the Chapel Store for a discounted $10.49.
Following Jesus is not a race to see who can be the most radical, sacrificial, knowledgeable, or burnt out for  Jesus. It's simply doing whatever he calls us to do, whether it's radical and crazy or simple and mundane.
Nobody talks about it much, but our passion for God can have a dark and dangerous side. Bestselling author Larry Osborne shines a light on the six most common dangers of overzealous faith and then shows us how to avoid them.
If you're seeking to follow Jesus with everything you've got, or if you wonder what has happened to the Jesus who offers rest to the weary and an easier yoke to the overloaded, then this book is for you.  You'll find that Jesus' offer still stands.
______________________________________________________________________________________________
"Passage" June Book:  All Things New by Lynn Austin – On Sale at the Chapel Store for a discounted $11.24.
The War is Over. The South Has Lost.  Josephine Weatherly struggles to pick up the pieces of her life when her family returns to their Virginia plantation. But the realities of life after the war cannot be denied: her home and  land are but a shell of their previous grandeur; death has claimed her father and brother; and her remaining brother, Daniel, has returned home bitter and broken.  Her Life of Privilege, a Long-ago Dream.  Josephine soon realizes that life is now a matter of daily survival-and recognizes that Lizzie, as one of the few remaining servants, is the one she must rely on to teach her all she needs to know.  Josephine's mother, too, vows to rebuild  White Oak…but a bitter haatrted fuels her.  Can Hope-and Battered Faith in God Survive Amid the Devastation?
In her bestselling tradition, Lynn Austin brings to life the difficult years of Reconstruction by interweaving the stories of three women…daughter, mother, and freed slave in a riveting tale.
____________________________________________________________________________________________________
"Passage"  April Book:  gods at war by Kyle Idleman – On Sale at the Chapel Store for $10.00.  Click on link to hear from author.
In gods at war, Kyle Idleman, bestselling author of Not a Fan, helps every believer recognize there are false gods at war within each of us, and they battle for the place of glory and control in our lives. What keeps us from truly following Jesus is that our hearts are pursuing something or someone else.   Behind the sin you're struggling with, the discouragement you're dealing with, the lack of purpose you're living with is a false god that is winning the war for your heart.
According to Idleman, idolotry isn't an issue – it is the issue.
By asking insightful question, Idleman reveals which false gods each of us are allowing on the throne of our lives.   What do you sacrifice for? What makes you mad? What do you worry about? Whose applause do you long for? We're all wired for worship, but we often end up valuing and honoring the idols of money, sex, food, romance, success, and many others that keep us fromthe intimate relationship with God that we desire.
Using powerful and honest testimonies of those who have struggled in each area, gods at war illustrates a clear path away from the heartache of our twenty-first century idolatry back to the heart of God – enababling us to truly be completely committted followers of Jesus.
This book will challenge even the most obedient Christians to re-look at their relationship with Christ.
____________________________________________________________________________________________
"Passage" March Book:  Cold-Case Christianity – On Sale at the Chapel Store for $15.29 (Mention "Passage" Book Club and receive 30% off…$10.71.)
  A Homicide Detective Investigates the claims of the Gospels.  The investigation that turned an angry atheist and skeptic into a committed follower of Christ and advocate for the undeniable reliability of the Gospel.
WARNING:  Do not start reading this book unless you have time to set aside. You will NOT be able to put it down.  This is a one-of-a-kind, ground breaking book that everyone should read.  J. Warner is in a unique position to investigate the claims of Christianity. He is quickly becoming my favorite apologist.  Twelve stars out of ten.   Don Stewart, host of Pastor's Perspective and author of over seventy books.
__________________________________________________________________________________________________
"Passage" January Book: Lincoln's Battle with God - On sale at the Chapel Store for $20.69.
  Abraham Lincoln was the most beloved of all U.S. presidents. He freed the slaves, gave the world some of its most beautiful phrases, and redefined the meaning of America. He did all of this with wisdom, compassion, and wit.Yet, throughout his life, Lincoln fought with God. In his early years in Illinois, he rejected even the existence of God and became the village atheist. In time, this changed but still he wrestled with the truth of the Bible, preachers, doctrines, the will of God, the providence of God, and then, finally, God's purposes in the Civil War. Still, on the day he was shot, Lincoln said he longed to go to Jerusalem to walk in the Savior's steps.What had happened? What was the journey that took Abraham Lincoln from outspoken atheist to a man who yearned to walk in the footsteps of Christ?In this thrilling journey through a largely unknown part of American history, New York Times best-selling author Stephen Mansfield tells the richly textured story of Abraham Lincoln's spiritual life and draws from it a meaning sure to inspire Americans today.
___________________________________________________________________________________________________
________________________________________________________________________________________